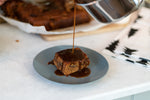 This cake is uterly epic and will wow your vegan and flexitarian (or any) friends.  It is not only a great vegan swap it is just a great, delicious pudding. 
To make you need:
200g Vegan Butter (we used naturli)

200g Organic Coconut Sugar

200g Pitted Chopped Medjool Dates

200ml Plant Milk (Califia  is great for this)

1 tsp Vanilla Bean Paste

100g Gluten Free Self Raising Flour

200g Ground Almonds

1tsp Gluten Free Baking Powder 

100g Chopped Pecan Nuts

Sauce:

100g Melted Vegan Butter

200g Coconut or Muscovado Sugar

100ml Plant Based Cream 

1tsp Vanilla Bean Paste

Generous Pinch Cornish Sea Salt
Next…
Sticky Toffee Cake:
In a small pan, bring the plant milk and chopped dates up to the boil then switch off and allow to cool. Once cooled blend the mixture until a smooth and thick then transfer to a mixing bowl.

Beat the vegan butter and sugar together with the vanilla paste until pale and fluffy then stir into the date mixture. Finally fold in the flour, baking powder, ground almonds and chopped pecans then pour the mix into a lined 6 inch square tin and bake in a preheated oven at 170 for 30-35 mins until springy to the touch.
Sauce:
Whilst the cake is baking, warm the butter, sugar, cream, sea salt and vanilla in a small heavy based saucepan until bubbling.

As soon as you remove the cake from the oven, prick all over with a cocktail stick then pour half of the warm sauce all over the top of the cake to soak in. save the remaining sauce pour over each individual serving.

Cut into 9 squares and serve warm with extra sauce and a generous helping of your favourite Cecily's ice cream