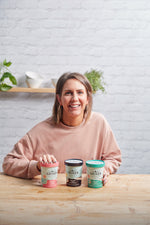 Meet Cecily
Hi! I'm Cecily. 

Ice cream obsessive. 

But I wasn't always like this.  I used to be a commuter, travelling every day from Brighton to London, admittedly for a brilliant job.  But I knew I wanted to do something different with my life. I had started making a coconut-based ice cream for myself.  My friends and family all liked it. And slowly, over about 3 or 4 months, I started to think to myself – maybe there is something in this. 

In 2014, I left my retail career, left Brighton, and returned to my childhood home of Cornwall to start the company.

I launched our first three flavours in March 2015.  Well, me and my three month old baby! But people loved it, and things moved so quickly from there – these last 5 years have flown by!

Today you can find us across the UK in M&S and Ocado.  We've got 7 delicious flavours, and I've got a second daughter!  And 2020 saw us launching our very own webshop – something we wanted to do for ages.  But each tub is still made in Cornwall by ice cream experts.

So thank you for choosing Cecilys ice cream.  I hope you love it.