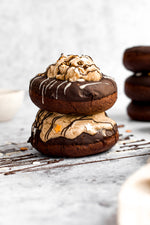 These fluffy vegan donuts are paired with delicious artisan ice cream and topped off with a rich chocolate glaze. 
To make you need the following:
INGREDIENTS
For the donuts:
1 cup all-purpose flour
1 tsp. baking powder
1 tsp. ground cinnamon
1/2 tsp. baking soda
1/2 tsp. (sea) salt
2/3 cup unsweetened almond milk
1/2 cup granulated sugar
1/4 cup melted vegan butter
1/4 cup cocoa powder
1 tsp. apple cider vinegar
1 tsp. pure vanilla extract 
For the glaze:
150g dark chocolate
50g white chocolate
Optional: sprinkles 
METHOD
Whisk together flour, baking powder, cocoa, baking soda, and salt and set aside. 
In another bowl, whisk together almond milk, sugar, butter, apple cider vinegar, and vanilla. Pour into dry ingredients and fold together until just combined. Do not overmix as this will make the donut heavy and stodgy.
Grease your donut pan with a light layer of oil or vegan butter.
Spoon the batter into a piping bag and pipe into the donut pan. 
Bake for 12-14 minutes at 180°C (fan oven setting) until skewer comes out clean.
Leave donuts to cool slightly in the tray for 5-10 minutes, then remove from tray and let cool fully before glazing.
 For the glaze:
Simply melt your favourite dark chocolate (either in a microwave or over a bain maire) and dip in your cooled donuts.
Optional: Pipe a small white chocolate dot and another smaller chocolate dot on top to create googly eyes for your monster donuts. Sprinkle with white and orange edible stars and voila
Serve with any flavour of Cecily's delicious ice cream