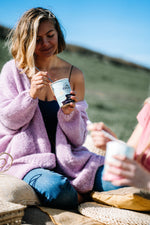 Sustainability
Being a chilled responsible business

At Cecily's we are committed to making little changes that if we all do them make a big change. We are always learning and trying to do our best for our communities, our suppliers and the planet.

Plastic free packaging

It has been a long road for us to find completely curbside recylable packaging. It was so important to us to find a solution that fitted with our organic credentials - lots of the options would have voided our organic certification from the Soil Association as they had a corn starch that was GM modified – so for a long time we felt a bit stuck. We knew our packaging did not fit our brand ethos but did not want to loose our certified status.

Anyway we have cracked it! We have changed the inner coating from polyethylene to plastic-free sugar cane alternative, which adheres to organic standards and is compostable and 100% BIODEGRADABLE and 100% paper recyclable. We have been working super hard on this and we are so pleased we can bring you easily recyclable packaging. This is for our 460ml tubs and our 100ml Cecily branded tubs.

We use recycled denim insulation when we send out our ice cream and it is largely biodegradable .

Our Coconuts

All our coconuts are ethically sourced from our supplier in Sri Lanka. Unlike other companies who use coconuts we never use monkey's to harvest our coconuts. In fact we're PETA approved.

Transportation

We are super conscious of the contribution that flying makes to global warming so we have made the choice to sea freight our coconuts to Cornwall. It takes a little longer to get them to us but we are company that believes it is super important to do what you can to help the planet.
When we transport our products from our warehouse and partners to your home it plays a role in the carbon impact of what we make. we will always send as much as we can on a truck in one go (to maximise the stock that's being transported at once). we also always minimise the amount of packaging used to secure deliveries and we always put stock on to reusable wooden pallets. We are working hard to become carbon neutral and B-Corp registered.