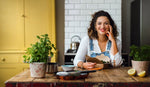 Q&A WITH KATE ATTLEE
We caught up with Kate Attlee, who in 2018 was a quarter-finalist on BBC 1's Masterchef.
Kate was born in Cornwall and despite living away for many years moved back to raise her two daughters. Kate has recently opened Sabzi Deli in Truro, which specialises in selling beautiful fresh salads, fruit juices,  awesome pastries including their Tahini and Cinnamon bun - which is one of the best buns you will ever eat and good, strong, proper coffee. If you're holidaying or visiting Cornwall do check it out - it is awesome.
Kate, like Cecily our CEO started her own business with two young daughters - we caught up her to discuss, running a business, her favourite days out in Cornwall and managing that elusive work/life balance.
Congratulations on launching Sabzi - I love it - such a great edition to Truro, How difficult was it logistically to set up the business in the first place.
Thank you! Truthfully, the main barrier to starting Sabzi was just working out how we could juggle the business within our family setup! My husband works away part time and we have two young children and two energetic dogs(!) so throwing a new, full time business into our family felt like a big ask. Once we had carefully talked through how we could make it work as a family, and I was confident we could do it, it was an utter joy to allow myself free reign to prepare to launch Sabzi.
Cecily's was set up by Cecily and she always wanted to run her own business?
I didn't grow up thinking owning my own business was really an option to be honest! I really hope that my daughters grow up knowing that it is a realistic dream to launch and own their own business as I think it's a very rewarding and flexible option for many people.
What have you learnt in your first 12 months of running a business (other than a global pandemic has its challenges)
I think the first six months of owning Sabzi has taught me that separation of business and home is a powerful and positive aim to work towards and hopefully achieve – obviously it's impossible to entirely detach yourself, but I feel so much better if I am either totally in 'work' mode and focusing on Sabzi, or conversely, at home where I try not to work in order to fully focus on family life. Having said that, I'm writing my answers to this questionnaire with my five year old climbing on me, so it's definitely a work in progress!
What has given you the most satisfaction since starting Sabzi?
KA - set up Sabzi for many reasons, but one of my primary goals was to feed people truly delicious food that makes them happy. To have been told that I am managing this by my customers feels utterly incredible, and wonderfully satisfying.
Where do you like eating out in Cornwall or around the UK
We love the Star and Garter in Falmouth; the pub is beautiful and the food is absolutely fantastic. Hubbox is great in Truro for relaxed dining and great burgers and we've had some really delicious seafood overlooking Swanpool beach at Hooked on the Rocks.
Do you have a favourite vegan recipe?
Sabzi's house dahl is vegan, and one of my bestselling dishes that is always on the menu. I love the simplicity of dahl, and the way such humble ingredients become something rich and deep in flavour that is incredibly satisfying and comforting to eat (I sell my spice blend in the shop with a recipe card….!)
Cecily - Cecily moved back to Cornwall and started Cecily's. Did you always plan to move back to Truro?
I think we did always plan to come back, yes, though I don't think we ever anticipated staying for so long! Having Sabzi in town has definitely further cemented it as 'home' and we feel very settled; we always feel that when the sun shines and you're sat on a Cornish beach, there's nowhere else you could possibly need to be, it's magic.
What are your favourite days out in Cornwall?
We adore Heligan for wonderful outdoorsy days with the girls, Falmouth is lovely for a day at the beach and some great food next to the water (we love Gylly beach cafe), Lappa Valley is our girls' favourite, and Trebah is so beautiful with the added bonus of a secluded beach at the bottom of the gardens!