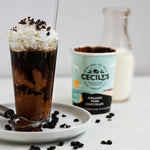 Two of the greatest things in life are coffee and ice cream - so combine them and yes my friend you have the greatest! To make this drink of dreams you need the following. 
Ingredients
460ml of Cecily's chocolate ice cream
Mug of cooled coffee or prepared cold brew
Coconut whipped cream
Optional: cacao nibs
Directions
Fill a glass with chilled coffee or cold brew
Scoop the desired amount of chocolate ice cream and add to the glass of coffee
Top with coconut whipped cream and cacao nibs if desired
Sit back and relax.